IMPRI Team
The #IMPRI  Gender Impact Studies Center (GISC), Impact and Policy Research Institute (IMPRI), New Delhi, hosted an interactive panel discussion on the topic "Gender and Union Budget 2023-24", on February 5, 2023, under the IMPRI 3rd Annual Series of Thematic Deliberations and Analysis of Union Budget 2023-24, as part of IMPRI #WebPolicyTalk. The discussion was chaired by Prof Vibhuti Patel, Visiting Distinguished Professor, IMPRI.
The session was inaugurated by Ms Nayna Agarwal, a researcher at IMPRI, who welcomed and gave a brief introduction to the chair and panelists of the discussion. The Panelists for the discussion included Prof Manisha Karne, Director, Dr. Babasaheb Ambedkar International Research Centre and Professor, Mumbai School of Economics and Public Policy, University of Mumbai; Prof N. Manimekalai, Director and Head, Department of Women's Studies, Bharathidasan University, Tiruchirapalli; Dr Sanghamitra Dhar, Technical Coordinator (States) – Gender-Responsive Budgeting, UN Women; Dr Keerthi Bollineni, President, Vasavya Mahila Mandali, Vijayawada; Ms Lata Bhise, State Secretary, National Federation of Indian Women (NFIW), Maharashtra and Dr Paramita Majumdar, Lead, GRB Expert, UN Women India Country Office.
Inaugurating the session Professor Vibhuti Patel, Visiting Professor at IMPRI, welcomed the speakers and participants to the program with an introduction to the eminent panelists. She set the tone for the discussion by briefly explaining how the current Union Budget has been focused on increasing capital expenditure without giving adequate attention to the social sector. Highlighting various policies of the government of India, she discussed how funding for them has changed as per the Union Budget 2022-23.
When asked about her views on how responsive the Union Budget 2022-23 is to women's needs, Ms. Bhise expressed her disappointment by elaborating on how the budget is silent on the issue of gender. According to her, the budget hasn't taken any new measures and only continued with the same old programs with only minor changes. She also expressed her discontent with the nature of programs that have been elaborated in the budget as in her opinion, they do not encourage a different and unique approach to entrepreneurship and finance for women. She exemplified her opinions by drawing on her work in Maharashtra. Lastly, she highlighted how these the budget and related programs are silent about the varying needs of minority women.
Dr. Majumdar started her response to the budget by highlighting how it instrumentalizes microfinance for reaching the self-help groups whereas employment creation through the channel of micro, small, and medium enterprises (MSME) has been ignored. In her view, the budget focuses more on infrastructural development rather than employment creation, and there is a clear lack of a gendered construction of these issues in the budget. For example, though the government has devoted significant resources to Pradhan Mantri Kaushal Vikas Yojana (PMKVY), there has been a clear lack of focus on the gender digital divide that needs to be addressed. She also highlighted how budget allocations for gender-related schemes have decreased despite an increase in spending for the education and health sectors. Lastly, she mentioned that despite recognizing the need to have a gender-sensitive budget, the planning and implementation process ignores women.
Prof Karne, when asked about the budget and its implications for minority women, reflected how engendering remains a major issue. In real terms, the spending on health and education has fallen and this is dangerous for minorities who rely more on public facilities. Moreover, the allocation for the employment guarantee scheme NREGA has been reduced as well. She elaborated on how employment creation should be a major priority of women as many of them don't enter the labor force owing to fewer employment opportunities. As far as the tribal population is concerned, she expressed satisfaction with the kind of measures elaborated in the union budget. However, she mentioned how capital expenditure targets have not always been achieved in the past and this needs to be taken care of this time.
Dr Dhar elaborated how, in her opinion, the union budget was a success from the feminist perspective. She explained that despite nominal increases for gender-related policies, the fact that gender found greater mention in the budget document was a success in itself, as small advances can lead to significant progress in the future. She also highlighted how the budget elaborated on northeast India, which is very significant given the longstanding neglect of the region. However, she expressed her reservations about the slashing of funds for the Ministry of Minority Affairs as well as her discontent about the lack of gender-disaggregated data.
Talking about gender violence and the union budget, Dr Bollineni elaborated on Mission Shakti and associated challenges. She also mentioned how the increasing prevalence of cyber violence and abuse has made it difficult for women to make their presence felt. In her answers, she also highlighted how there is a clear lack of mainstreaming when it comes to gender-related policies such as nutrition. She is of the opinion that government policies are focused on giving blanket responses to gender issues rather than preparing and empowering women to deal with issues such as unemployment as well as violence. Lastly, she touched upon the importance of having gender-disaggregated data to develop responsive policies for women.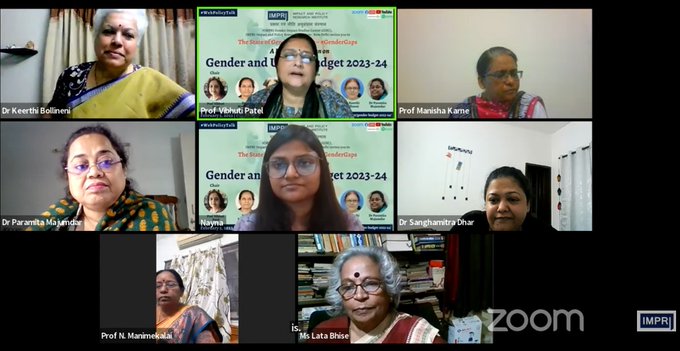 Prof Manimekalai put forth some very interesting observations about budget and women in informal work. She highlighted the budgetary reduction in NREGA and the possibility of women getting affected in an adverse manner. With reference to her research work, she explained how the mechanization of agriculture has forced women to shift their focus on construction and domestic help sectors in urban areas for employment opportunities, and this presents a risk of informalization of the female labor force. Her answers also reflected the lack of attention that is given to gender minorities such as transgender communities. Lastly, she discussed successful policy measures taken by successive governments in Tamil Nadu that have been found to be beneficial and can be replicated at the national level.
Closing the session, Professor Vibhuti Patel, Visiting Professor at IMPRI gave her concluding remarks and observations and thanked all the eminent panelists. She underlined that many essential points had been brought up during the discussions. The event ended with a vote of thanks by Ms Nayna Agrawal on behalf of the IMPRI Gender Impact Studies Center (GISC).
Acknowledge: Tanya Singh, a researcher at IMPRI
Youtube Video: Gender and Union Budget 2023-24