IMPRI Team
The #IMPRI Center for ICT for Development (CICTD), Impact and Policy Research Institute (IMPRI), New Delhi, hosted an interactive panel discussion on the topic "Education and Union Budget 2023-24", on February 5, 2023, under the IMPRI 3rd Annual Series of Thematic Deliberations and Analysis of Union Budget 2023-24, as part of IMPRI #WebPolicyTalk. The discussion was chaired and moderated by Dr Sachidanand Sinha, Retired Professor of JNU, New Delhi and Visiting Professor at IMPRI.
The session was inaugurated by Ms Zubiya Moin, a researcher at IMPRI, who welcomed and gave a brief introduction to the chair and panelists of the discussion. The Panelists for the discussion included Prof Mona Khare, Professor and Head of Department of Educational Finance, National Institute of Educational  Planning and Administration (NIEPA), New Delhi; Dr Suresh Y Reddy, Director, SRF Foundation, Gurugram;  Professor Soumen Chattopadhyay, Chairperson of Zakir Husain Centre for Educational Studies, JNU; Advocate Anubha Srivastav Sahay, President, India Wide Parents Association, and Child Rights Activist and Dr Protiva Kundu, Thematic lead, Social Sectors, Centre for Budget and Governance Accountability, New Delhi.
Initiating the discussion, Dr Sinha said although the impetus given to teachers' training in this Budget is encouraging, yet we do not have much idea or figures about how DIET (District  Institute of Education and Training), is actually providing academic and resource support at the grassroots level. Also there is no clarity on allocation about tribal education and questions remain on provisioning of the schemes within the budgetary framework. 
Laying down bare statistics, Dr Protiva Kundu highlighted that 67% of schools in India have functional electricity and its connection ranges from about 25% in Manipur to 100 % in Delhi. Only 16% of schools have digital access and barely 1.2% of schools have digital libraries. And about 40% of teachers have computer literacy.  She talked about prioritizing three things before fund allocation and beginning new schemes, these being the Analysis of the Current Socio-Economic Situation, the Scenario likely to Prevail in the Future, and the Direction which Education is taking. Other priority areas being Inclusive Development and Reaching Out to the Last Mile. 
Focusing on the size of school education, Dr Kundu informed that there are 15 lakh schools, 27 crore students and 95 lakh teachers in government schools in India. Although this year's Budget has set aside ₹1.12 lakh crore for education — said to be the highest ever allocation and an increase of around 8.2% over  2022-23 budgetary provisions, yet there are several lacunae. 
Dr Kundu pointed out that the additional money would go to the  Kendriya Vidyalayas, Navodaya Vidyalayas, and the PM Shree Schools, which are supposed to be exemplary schools to implement the NEP, so the focus is primarily on the central government's model schools. But these cater to only about 21 lakh students leaving about the 15 crore students in government schools in their prior dismal state. Although these students are covered under Samagra Shiksha Abhiyan (SSA) which is also a vehicle for NEP, focused on fundamental literacy and numeracy, there has been drastic degeneration in reading and mathematical ability due to the pandemic in the last two years. 
Dr Kundu said the government is now going to go for result-based financing for select schemes. But for educational schemes, we have not reached the  stage where we can link outcomes with finance. Talking further about the revised  SSA guidelines, she mentioned that provisions have been made for in-service teachers training in a blended form that is both online and office. But there are reservations about online training.  Considering the socio-economic situation in different parts of India, accessing basic education should be made more important than accessing online education. This thrust on digitisation for school education should now be utilised for administrative work rather than for teaching, according to Dr Kundu. 
Another important lapse in the Budget is the stopping the pre-matric scholarship for students of class 1 to 8 based on the argument of elementary education being already free. However, she stressed on the need for scholarships to reach the last mile and to create a level playing field because their are still expenses incurred on purchasing books and notebooks.
Echoing her thoughts, Dr Suresh Y Reddy said the digitization  of schools and their curriculum is welcome but schools require digital infrastructure, internet connectivity, LCDs, Monitors, and enhanced teacher capability to become functional. But the government has levied GST from 18% to 28 % for procurement of IT equipment which is a hindrance. And no provision has been made for waiving off GST in this Budget. Waiving off GST would bring more money into the system and more e-content and development of software can be advanced. 
Apart from GST, Dr Reddy pointed out in the last decade, annual school education growth rate has been a mere 2% while annual growth in higher education has been 6%, i.e., actual spending is not enough. So in every aspect of schooling, there is a deficit. And there is a dire need to remodel the DIET. Also Rs 25000 crore CSR Budget is available which can be utilized to build up model schools. So leveraging corporates' help can transform school education but the Budget is not saying anything on this aspect. 
Touching upon the vocationalisation of education, Dr Soumen Chattopadhyay said the enrolment in vocational education is aimed at 50% by 2025 and the gross enrolment ratio is targeted at 50% by 2030. There is also an emphasis on digitization which means there is bound to be a fall in average cost, and the Budget would not commensurately grow with the rise in the enrolment ratio. 
Speaking on skilling India, Dr Chattopadhya said there has been a budgetary increase of 12.5%, basically due to the National Apprenticeship Training Scheme (NATS) but it is linked with MSME, which are currently not doing very well. There is also an intent showing in the Budget that individuals and institutions should borrow, spend and fund their own education, if it is to compete with the world class Universities. If this concept is being proposed, there is bound to be an increase in tuition fees. Also there is no funding for research and innovation.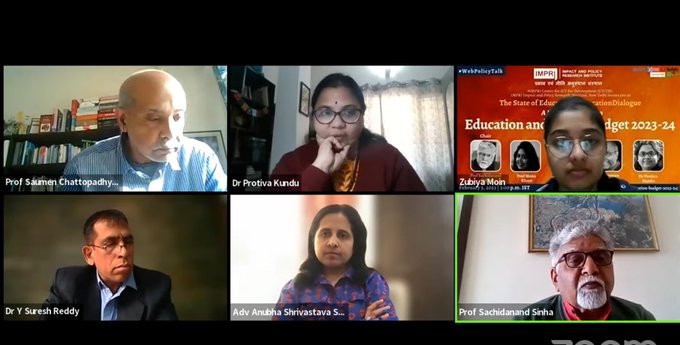 Thinking on the same line, Dr Mona Khare said there is literally no talk about multi-disciplinary universities, research universities, social sciences and humanities subjects. She said this year's Budget focuses mainly on Engineering, Technology, Medical and Nursing sectors but there is little continuity on vocationalisation of higher education in this Budget, although it has been the major thrust point of NEP.
Talking about the revenue component of higher education, Dr Khare said the higher education institutes have depended on HEFA (Higher Education Financing Agency) but from the last Budget there has been a fall in HEFA allocation and this Budget does not talk about HEFA at all. 
Dr Khare questioned whether the government now believes that our higher education sector has reached a certain threshold in good quality infrastructure and does not need any more funding or whether are we going to leave out public institutions to the markets. The underlying thought is that public institutions should manage 30% of their expenditure on their own.
She also stressed that NEP has vociferously talked about inclusion and equity but this Budget does not talk about Socio-Economic Disadvantaged Groups (SEDG), transgender or gifted children. Also, there has been no talk about training teachers in the higher education sector. Also, there has been under-utilization of funds in most schemes. 
Advocate Anubha Srivastava touched upon access, equity, quality and accountability under the NEP and emphasized the dearth of funds and aid for school education. She also said mentoring of schemes is an important part of the process. 
After a question and answer session, the program concluded with closing remarks by Dr. Sachidanand Sinha , who thanked and praised the team at the IMPRI Impact and Policy Research Institute for hosting a successful panel discussion and for ensuring the smooth functioning of the event. The event was concluded with a final vote of thanks by Ms. Zubiya Moin on behalf of the IMPRI Center for ICT for Development (CICTD).
Acknowledge: Jiyan Roytalukdar, a researcher at IMPRI
Youtube Video: Education and Union Budget 2023-24